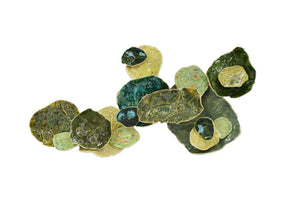 Fallen Leaves - Bromley Brown
'Fallen Leaves' is a testament to the beauty of nature and the versatility of clay as a medium. The artist has used pressed foliage from their garden to create intricate patterns and textures on the surface of the clay. The result is a stunning piece of art that captures the essence of the outdoors and brings it into the home.
Artist Bromley Brown, was drawn to the tactile nature of clay, enjoying the feeling of moulding and shaping it with their hands. They found that working with clay allowed them to express themselves in a way that no other medium could. The process of creating this piece was a meditative one, as the artist carefully layered each leaf onto the supporting beams, forming a unique and organic pattern. The use of pressed foliage adds a sense of depth and dimensionality to the piece, as if the plants themselves are growing out of the clay. The natural colours and textures of the leaves and stems are also preserved, creating a beautiful contrast against the smooth white surface of the clay.
As you view this ceramic wall art it is a celebration of the beauty of nature and the endless possibilities of clay as a medium. The artist's love of moulding and shaping the clay together with the pressed foliage from the garden has resulted in a unique and stunning piece of art that will be cherished for years to come.
Bromley's support worker assisted him with his artwork description.  
Composition
Ceramic wall hanging sculpture (460mm w x 270mm H)

Artwork Collection
All items are sold by Click-and-Collect. We will notify you when your artwork is ready to collect from our Mosman Park Hub following the end of the exhibition in October.