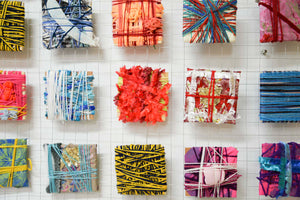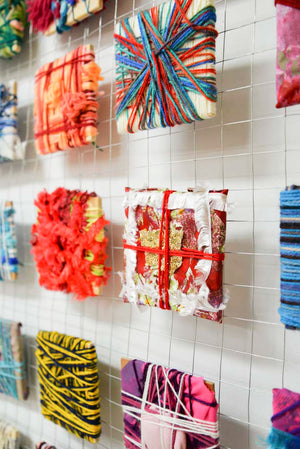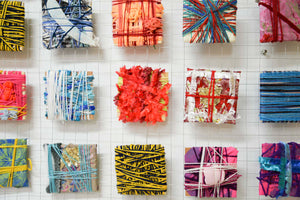 Floral Kaleidoscope
The 'Floral Kaleidoscope' installation represents a harmonious collaboration among the artists at the Rocky Bay Studio. What began as an intuitive and tactile craft experience blossomed into a profound exploration of creative possibilities. Through repetitive movements of winding wool and the addition of textured elements on square wooden blocks, each artist contributed unique pieces that coalesce into a compelling image, resonating with observers. Vibrant colours and delicate touches of gold weave through the artwork, invoking the immersive feeling of strolling through a wildflower-filled meadow. The chosen substrate and materials reflect the essence of "the garden," inviting individuals to engage with the environment and become active participants in its interconnected processes. 
Composition
Hanging flat sculptural piece. Yarn wrapped squares attached to a wire substrate (980mm x 980mm)

Artwork Collection
All items are sold by Click-and-Collect. We will notify you when your artwork is ready to collect from our Mosman Park Hub following the end of the exhibition in October.