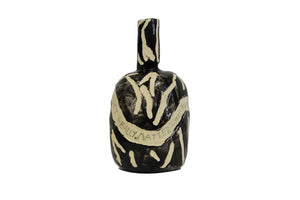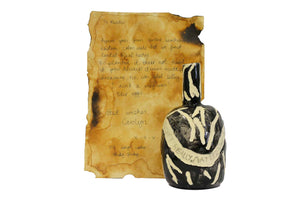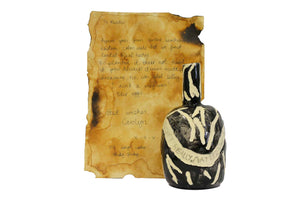 Give It A Burl - Carolyn Shervill
"Just Give It a Burl" really encapsulates Carolyn's sense of adventure and humour by incorporating two of her favourite mediums of ceramics and poetry. The text adorning the decorative Vase portrays Carolyn's approach to poetry and art which is full of life and humour, showing her courage to "just give it a burl" when faced with a task that may be out of your depth.
The accompanying 'message from the bottle' envisions a story of a treasured bottle buried deep in the garden bed and, left to grow, we can dream that the treasure multiplies.
Carolyn's support worker has assisted her with her artwork description. 
Composition
Ceramic Vase with accompanying A4 size paper to be placed under sculpture (200mm H x 100mm W x 100mm D)

Artwork Collection
All items are sold by Click-and-Collect. We will notify you when your artwork is ready to collect from our Mosman Park Hub following the end of the exhibition in October.