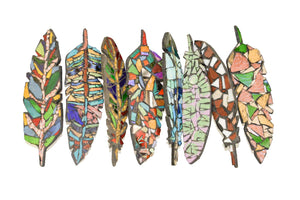 Glass Feathers Dark
Introducing 'Glass Feathers'. These captivating individual sculptures have been created by the Rocky Bay Studio artists collectively. Representing a rich variety of feathers, reminiscent of those found among our iconic Australian birdlife. Each feather mosaic possesses its own abstract character, reflecting the unique traits of its corresponding bird species. Meticulously arranged, the intricate patterns and colours create a visually stunning display. When placed near a window, the interplay of light on the glass amplifies the feathers' beauty, accentuating the distinct features of each species, from the Rainbow Lorikeet's vibrant hues to the Kookaburra's deep browns. As you immerse yourself in these artworks, challenge yourself to identify the birds behind the sharp lines or delicate curves. These feathers serve as reminders of the remarkable diversity and importance of preserving the habitats of Australian birds.
Composition
Mosaic feathers (260mm L x 80mm W)

Pricing
Priced at $30 per feather with each feather sold separately. Your feather will be chosen at random.
Artwork Collection
All items are sold by Click-and-Collect. We will notify you when your artwork is ready to collect from our Mosman Park Hub following the end of the exhibition in October.