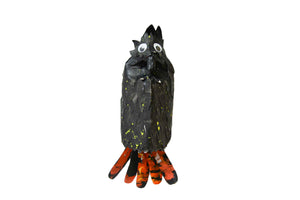 Karrakins
The Karrakin, or red-tailed black cockatoo, stands as an emblematic bird of great significance to the region. Classified as endangered, their population steadily declines, with an estimated wild count ranging from 10,000 to 15,000. Recognizing the urgency of conservation, the artists at Rocky Bay have collectively crafted a playful papier-mâché homage to these stunning native creatures. Through this whimsical flock of Karrakins, the artwork aims to illuminate the profound joy that these exquisite and singular birds bring to Western Australia.
Composition
Hanging papier-mache birds (440mm H x 100mm D x 100mm W)

Pricing
Priced at $15 per Karrakin with each Karrakin sold separately. Your Karrakin will be chosen at random.
Artwork Collection
All items are sold by Click-and-Collect. We will notify you when your artwork is ready to collect from our Mosman Park Hub following the end of the exhibition in October.