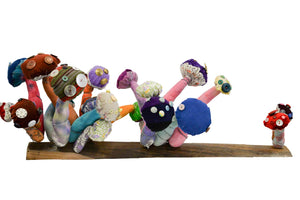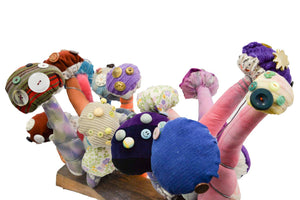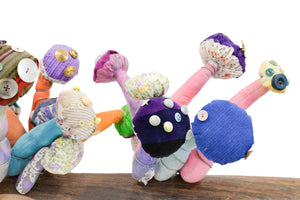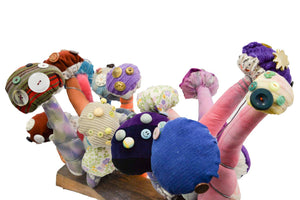 Mushroom Fields
'Mushroom Fields' is an installation created by Rocky Bay Studio Textile group involving individuals living with a disability. This installation represents the power of creativity and the ability to overcome barriers that many people with disabilities face every day. Each mushroom is unique and hand crafted with care, showcasing the talent and imagination of the artists.
The use of textiles in this installation adds an element of softness and warmth, inviting viewers to engage with the piece in a tactile way. The mushrooms themselves are whimsical and playful, evoking a sense of wonder and magic. The colours and different buttons used on top of the mushrooms draw the viewer in and encouraging them to explore the unique details of each mushroom.
This installation is not only a beautiful work of art, but also a powerful statement about the importance of inclusivity and accessibility in the art world. It demonstrates that creativity knows no bounds and that everyone has the potential to create something truly remarkable. A collaboration from them to you.
This artwork description has been written by the artists with the assistance of their support workers. 
Composition
Textile mushrooms sculpture. Stuffed mushrooms affixed to a wooden base (900mm L x 350mm H x 350mm w)
Artwork Collection
All items are sold by Click-and-Collect. We will notify you when your artwork is ready to collect from our Mosman Park Hub following the end of the exhibition in October.