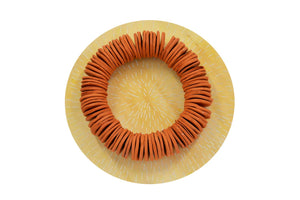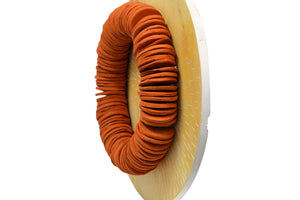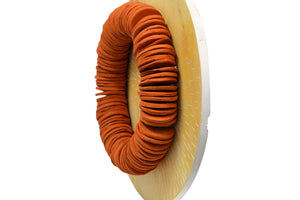 Sowing the Seeds - Dwayne Curnow
'Sowing the Seeds' is a cohesive and contemporary pottery wall installation that artfully captures the interplay between a garden's diverse natural elements. Created by Dwayne Curnow in the ceramics group at Rocky Bay Studio, this artwork harmoniously combines circular terracotta motifs with an intricately engraved wood panel, mirroring the textures and patterns found in nature. Dwayne's deliberate and repetitive mark-making reflects the act of sowing seeds and becoming entwined within nature's cyclical processes. By employing terracotta earthenware and wood, Dwayne's masterpiece symbolizes the profound connection between humans and the natural world. 
Composition
Ceramic and wood

Artwork Collection
All items are sold by Click-and-Collect. We will notify you when your artwork is ready to collect from our Mosman Park Hub following the end of the exhibition in October.