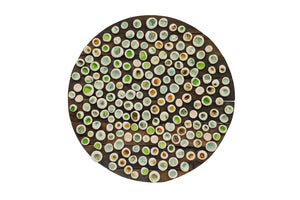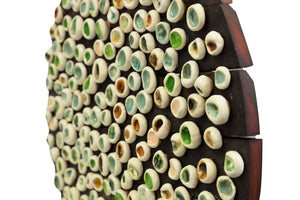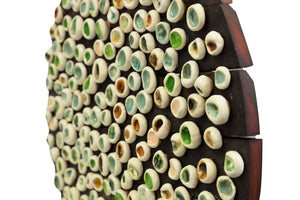 Touched by Nature
"Touched by Nature" is a mixed media sculptural piece that aims to express the multiplicity of ways that nature touches the individual. This piece features ceramic thumbprints mounted on West Australian timber and glazed in an array of soft colours that you would find in a garden, reflecting the diversity and vibrancy of West Australian nature and the individuals as part of nature.
The thumbprints come from each of the ceramic artists and support workers that are part of the rocky bay studio community, and arranged in a circular pattern, symbolizing the cyclical nature of life and growth in the garden.
This artwork description has been written by the artists with the assistance of their support workers. 
Composition
Ceramic and wood. 
Artwork Collection
All items are sold by Click-and-Collect. We will notify you when your artwork is ready to collect from our Mosman Park Hub following the end of the exhibition in October.