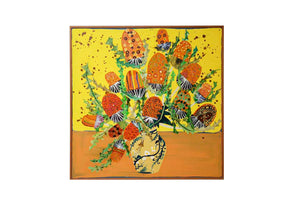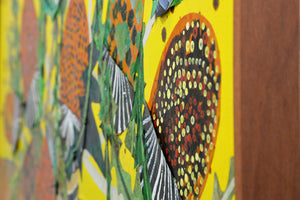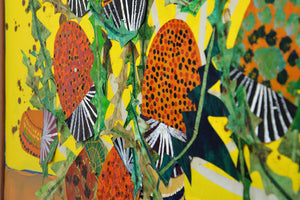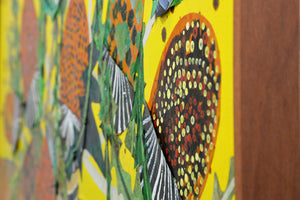 Van Ozz
'Van Ozz' is an expressive mixed media collage that draws inspiration from Van Gogh's iconic Sunflower painting and showcases the exquisite beauty of native Australian flora. Vibrant banksia flowers are thoughtfully selected and arranged, creating a striking composition. Through the use of collage techniques, the artwork achieves depth and texture, resulting in a dynamic and layered visual experience. The meticulous process of crafting this collaborative piece spanned over two months. Overall, 'Van Ozz' is a heartfelt celebration of Australia's natural splendour and a heartfelt tribute to Van Gogh's artistic legacy, capturing the essence of the country's flora in a unique and compelling manner. 
Composition
Textiles, Wool, Wood. 

Artwork Collection
All items are sold by Click-and-Collect. We will notify you when your artwork is ready to collect from our Mosman Park Hub following the end of the exhibition in October.